On envato they had there free items of the month release from their various sites and as an asset junkie I was compled to download all of the free items that I even thought I might need. One of these was a robitic creation kit from graphic river by
RZDESIGN.

  As a fan of robots and character designs I was drawn to the simple yet complex in customizeable optionsfrom these character parts. I decided as a simple exercise and quick project ( or so I thought) I would build a few of these characters.I picked one from his original dark set and light set.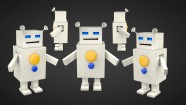 The white bot I built first which was fairly straight forward since it mainly consisted of rounded long cubes. The only "real" modeling was the done on the head since I had cut into the head to make sure the mouth and eyes where all one part of the head. I did a bit of redesign with the arms so that they could move without just seeming like there coming out of the sides of the body magically.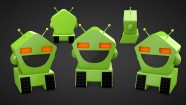 The green bot was a bit harder to make which at fist seem like it would be pretty simple. The main issue I encountered was how to build the head/main body. A pentagon is a simple object to make in any 3D program and there usually is a one or two click solution. My issue was with cuts into the front face to make the eye and mouth with out there being a bunch of triangles and would allow it to smooth correctly.
There is seemingly no way to lay a grid out on a front face of a 5 sided object without some triangles though I did my best to hide or put them in places that won't matter. I was able to layout some structure that let me cut into the face and allow for the edges to be smooth correctly with a hypernurb. Of course since I wasn't really planning on doing any deformations in the face I might not of needed to take as much effort laying out the face, but using just booles ( which I'am sometimes guilty of using) would not have cut it. 
 I did a bit of redesign for the lower part where the treads are since in the original design they seem to connect directly to the main body, which in a static 2D design works but in 3D may be a bit of a stretch in how it would actually move. So I created a new base of the tread design of a model of a Hunting Russ Mk. II tank.
The next step I took was lighting the two bots which I started of well and posted some preview images of on my twitter, but as I continued to work on it I got hung up some details and reflection that I couldn't get to emulate the original design correctly. Eventually I just said the heck with it and pushed through it and created a new save file that said final and after a few incremental saves, I had the final images. I also have a rotating camera up which I may render a full turntable of later.