This past Friday I received a package from shapeways of my bison whistle. I was super excited when I found out earlier that week that it was shipped early than I expected.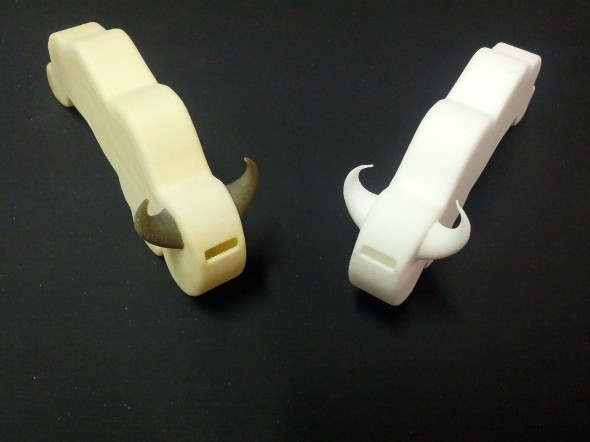 After receiving them and getting over the initial awe of seeing something I made in the computer in real life (which lasted all of 1-2 minutes) I noticed many things about my developing modeling skills and understand a lot more about the translation from a 3D computer model to 3D real life object.
Scale matters…of course.
I have learned over time how relative scale work in regards to lightning object, dynamics to certain degree and even how fluid works with it in regards to real life size. Though making a real object took a bit of work and in the end I think I should have scaled my model up a bit more still.
I based my object on dimensions of a hair brush on my desk which seem a good size for the whistle. I did this in first center meters since that is one of the units of scale that shapeways takes, but for some reason I could not get my object scaled right even after adjusting the exports setting for stl or wrl. In the end I went with inches and the site took it perfectly. I'll have to figure out what I did wrong eventually.
Full Color Sandstone vs. White Strong & Flexible Plastic
Both look awesome but plastic seemed to add even more smoothing to the model which is nice. I also notice less of the production process it took to make (though you can notice some stepping), where as on the sand stone I can feel and see where It also was heated, printed and is still smooth in some parts. However the sandstone one is fully hollow as I originally model it but the plastic is not. Not sure why though, maybe it was to hard to clean it out? The plastic also has some extra plastic on the horn tips as well.
My final thoughts is that 3D printing is awesome and I can't see why people who really 3D modeling for a living shouldn't get everything cool they model printed. It makes me want to become a better modeler just so I can print them out and see it in real life.
Also if any one else want this I put it up in my 3d printing shop for any one to buy.
Now what should I model next to 3D Print?