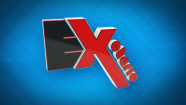 Two weeks ago now I did an every day of the week typography exercise using definitions of words to try and create a type treatment for them. One of my favorites was exoteric and I deiced I would try and do a full 3d or 2d design with it. I choose to do a 3d design and in addition added some simple animation to it.
I planed out the animation using my base type design and just thinking how the type would animate together in a logical way. The random pointy and circle objects that go through the top and out the bottom as pyramids, squares, and spheres I developed because part of the definition of the word is simple. So my idea was to have items transition from complex to simple it also gave me an excuse to play with thinking particles and Xpresso.
A few things I noticed is my timing for the E to pop out could be more spaced out to give it more of an impact entrance. I also could have given more X-ray time to see the objects transition in the middle. Lastly this font Null Free isn't great for 3d text at angle but still looks cool anyway I think.