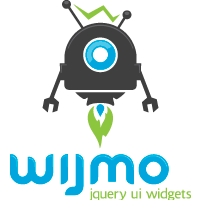 A while I was looking thought some free logo download website and I came across a bunch that I liked and save the link. After hitting a snag(which I know have an idea to get pass) in one of my other project I decided to take a quick break and work on something different. I searched through my logo links and found a cool logo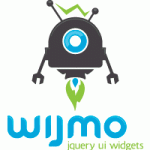 on http://www.gmkfreelogos.com. I thought the design looked cool so I downloaded the file and it happen to come with a bunch of different variations and styles.
I was about to begin to design the final scene when I thought to look up the actual company.  Seems the company that produces these UI widgets is just as cool as their logo. Looking around there site I was able to produce the final end frame base on the bar chart which is one of their widgets. I have found that after doing these random logo animation the ones that turn out the best or that get finally made are the ones where I have ample information about the company. Just goes to show you the power of researching and information.
I brought everything into after effects and began to rig the main robot creating effect controllers that would let me animate the robot with ease. Arms rotation, retractable arms, writs rotation (which I didn't use), hand open close (which I also didn't use), eye close and movement, lower body thruster angle.  The fire also has some slight movement to it as well.
I outline the animation with little thumbnail of how the animation would play out I originally had it timed  out for 5 seconds but It felt rush so I just extended it which also allowed me to find a sound track that timed up well with it that I got from http://freeplaymusic.com/.  The sfx I download from http://www.freesound.org and my own personal collection.
On the whole I think the animation turned out all right. I took longer to complete then I wanted it too but I was able to answerer a question on Creative cow that happen to deal with my project as well. http://forums.creativecow.net/thread/2/1002593 Though I didn't use my own expression in my own project since my parent hierarchy was crazy. The one thing I wish I could of found a decent solution that wouldn't take a lot of time was getting the bolt on the head to move around and look good. I tried a few ways with beam and lightning but it didn't look good.
This logo animation was not commissioned by Wijmo just done for fun. Check out http://wijmo.com if you're into web design and development.