Warning
: Illegal string offset 'js' in
/home/g2bprodu/public_html/mogra/wp-content/plugins/vimeo-simplegallery/vimeo_simplegallery.php
on line
216
Warning
: Illegal string offset 'js' in
/home/g2bprodu/public_html/mogra/wp-content/plugins/vimeo-simplegallery/vimeo_simplegallery.php
on line
217
Warning
: Illegal string offset 'js' in
/home/g2bprodu/public_html/mogra/wp-content/plugins/vimeo-simplegallery/vimeo_simplegallery.php
on line
218
Warning
: Illegal string offset 'showtitles' in
/home/g2bprodu/public_html/mogra/wp-content/plugins/vimeo-simplegallery/vimeo_simplegallery.php
on line
219
Warning
: Illegal string offset 'showtitles' in
/home/g2bprodu/public_html/mogra/wp-content/plugins/vimeo-simplegallery/vimeo_simplegallery.php
on line
220
Warning
: Illegal string offset 'title' in
/home/g2bprodu/public_html/mogra/wp-content/plugins/vimeo-simplegallery/vimeo_simplegallery.php
on line
221
Warning
: Illegal string offset 'title' in
/home/g2bprodu/public_html/mogra/wp-content/plugins/vimeo-simplegallery/vimeo_simplegallery.php
on line
222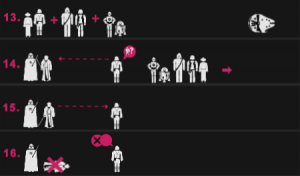 The final version of the Starwars Iconoscope Animation. Technically I'm late with this post…I feel asleep while waiting to render…but this will count for yesterday's post. The animation part didn't take that long but doing the sound took a little bit to do, but too much after I got the flow of using sound booth.
It worked fairly well and it definitely was a lot easier than doing audio in after effects, it does have some odd quirks though which I'm sure you could tweak in the settings. One that was annoying that I didn't figure out yet is this green line one the side of the video. I'm guessing it's for audio levels, but I didn't see an quick obvious way to take it off. I wound up just cropping it out of the frame, which apparently didn't work on youtube…
My goal with the sound was to have an effect for every "real" motion item that wasn't associated with a human. So the targets, ships, X's (on non-humans), and maybe some other items have sounds.
The Background audio transitions from different track that some what go with the movie. I suppose if you're a true fan you may recognize the songs, although I can say that I would but the listing is below.
2. Main Title/Rebel Blockade Runner
9. Ben Kenobi's Death/Tie Fighter Attack
11. The Throne Room/End Title
I'm not 100% sure if 03 goes where I put it but it sounded ok.
I can tell some parts need to be worked on a bit more but I have to out put this. I may go back and tweak some audio since I wish I had some better sounds. Well see.