I'm always looking for more opportunities and different projects to work on. So when I was contacted by SME branding to asking if I would like to be a part of a project they where going to being I jumped at the opportunity. The Project began in mid august with a hard deadline in the middle of September.
My involvement other then discussions on the project as a whole was involved with the animation following the direction given from the storyboards done by the awesome designers. I worked over a week with the SME designers to create the vision they had for this animation. I used primarily After Effects CC with some C4D via cineware. Though cineware is still not as work flow steady as I would like it to be, so I did have to render out a few things in the end.
In addition to the animation I was responsible for the final audio mix of the project. They wanted to give the project a real environmental feel to it. Their team discussed the sounds that they wanted and I went about doing the final mix with their direction and feedback. SME had a composer create and original track for the piece that would express the feelings they where going for. I used Audition CC to do the final mix which worked well in my final workflow.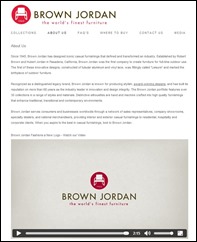 Overall I had a great experience working on this project, with the team over at SME and I'm glad it turned out well for Brown Jordan. You can even check it out on their website.