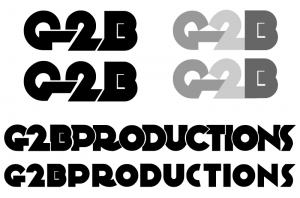 Something that has been long over do is having some sort of logo to title that I can identify with for my work. Above are few ideas of about 60 or so variation I worked with. In developing it I wasn't sure what sort of image I would use for representation so I decided to go the type route.
The type is based on the killogram font that I modified. The 1st and 2nd row are essentially the same except the G is pulled in at angle slightly. The second column I adjusted the how the G and 2 come together.I think I'm leaning towards the ones on the left.
The two at the bottom are the long form version. The second one is the standard text minus the adjusted G. The third row I took out part of the edges for each letter to make it look like it's cutting into it. I working on trying to make it look more as a whole piece. I thinking of having one version for the short and an 2nd for the long version.