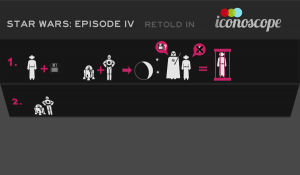 This is the official part one of the Iconosope animation. I did 10 scenes so pretty much 1/3.  I fix some timing in the first two I had done and notice some other areas I need to improve. Although there not to much "actual" animation there is a lot of timing that is involved in it.
I'm trying to have the icons come up in the same patter as a normal speech. So some parts I sped up and other are slow. I also added some cheesy light saber effect for the transitions to the next set of scenes.
I'm thinking for the music I should either mix the whole sound track into one big mix. Maybe 15 or 30 seconds a song or just pick my fav and mix those few. I need to add some more sfx as well.