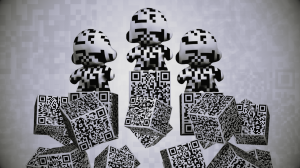 This is my final version for the QR Code Dunny that I was working on. I render this one out with a linear profile from cinema 4D which initially was very dark but I remembered reading a blog post about linear work flow from heloluxx.com. (Which has a load of stuff for learning Cinema 4D. ) So I was able to switch over the project profile and everything look alright, some what.
I did some color correction and tried to make have some color so it wasn't so plain with just black and white. In addition I added some sound and time remap effects that work together. I think it make it seem kind of cool and ominous.
The music I found just Googleing monolithic , which brough me to Dr. Mabuse – Monolithic. It a pretty cool experimental video by Angelique van Grootel. Not sure why I originally thought monolithic since I forgot the definition but after look it up it makes sense. Music by Dr Mabuse.
I used the spy photo preset from all bets are off production for the time remapping. originally I was doing by hand(mouse using time remapping but them I remembered this preset).
The dunny model is from http://soulkreig.deviantart.com/art/Munny-DIY-3D-Model-192341036